Russetfur
Lionheart.deputy.png

Affiliations
Current:
ShadowClan
Past:
Rouge
Post-Death
Residence:
StarClan
Names
Name:
Warrior: Russetfur

Rogue: Russetfur

Deputy: Russetfur

Education
Mentor(s):
Fernshade
Apprentice(s):
Cedarheart
Deputy Position
Preceded by:
Blackfoot (Blackstar)
Succeeded by:
Rowanclaw
Book Appearances
Dead:
Night Whispers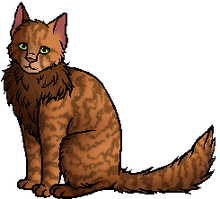 Russetfur is a sleek, dark ginger she-cat with dark green eyes.
Ad blocker interference detected!
Wikia is a free-to-use site that makes money from advertising. We have a modified experience for viewers using ad blockers

Wikia is not accessible if you've made further modifications. Remove the custom ad blocker rule(s) and the page will load as expected.