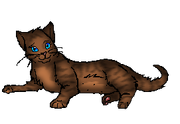 Queens
are she-cats who have taken a certain tom as a mate, and has given birth to/expecting kits.
When a she-cat has become heavily pregnant with kits, only then does she have to move into the Nursery.
A queen must stay in the nursery until her kits have become apprentices, though some queens have been known to, at least partly, leave the nursery before her kits were apprenticed.
Warm, wash and feed their young.
A she-cat must be a warrior or higher rank to have kits.
Once a she-cat has become a warrior, she is free to have her own litter. She must be in love with a tom who is a warrior as well. The pair may show their affections by sharing food and tongues and going on patrol together more often than usual, and going hunting or sightseeing in their own territory together, just the two of them.
After a while, if their love is successful and does not break, the two warriors will mate and then be considered as mates. When the she-cat has become heavily pregnant, she will move into the nursery and stay there. Her food and water will be brought to her by apprentices and sometimes warriors, most likely her mate. When the kits are born, the Clan medicine cat will encourage her and accompany her for the whole process, giving her raspberry leaves. Once her kit(s) are safely born, she may have too much or too little milk. If she has too much, the medicine cat will give her parsley to decrease the amount of milk she can give, and if she has too little milk, borage is necassary to make more milk come to feed her kit(s). Too much milk may happen if one of her kits, which the extra milk was for, dies. Too little is mostly caused by the queen not having enough food and drink, and her milk dries up.
The she-cat will stay in the nursery with her kits until they become apprentices (are six moons old) and recieve mentors to train them. The queen may then leave the nursery and return to normal warrior duties, though nothing is stopping her from taking another mate and having his kits, or mating with the same tom again.
List Of Queens
Edit
Coming Soon
Feel free to add to/remove from this list.
Ad blocker interference detected!
Wikia is a free-to-use site that makes money from advertising. We have a modified experience for viewers using ad blockers

Wikia is not accessible if you've made further modifications. Remove the custom ad blocker rule(s) and the page will load as expected.